Ninnies
---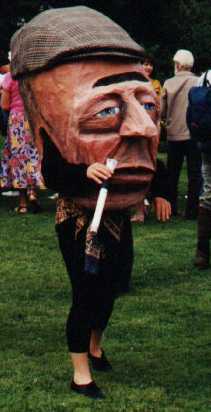 Ninnies are Big headed figures, smaller than a giant and not free standing. Sometimes known just as 'Big heads' they are often seen in the company of giants. Ninnies may be considered as a special class of beast. The point is, however, that they usually represent a human-like figure.
There are two main classes of ninny.
The Dwarf ninny. Typically the head and shoulders of the porter are totally enclosed within the head of the ninny. The top of the porter's head comes to the top of the ninny's head, but it's inside.
The Big Head ninny. The head of the ninny is above the head of the porter who looks out through the nose, mouth or neck of the ninny. The ninny is either strapped to the body of the porter leaving his or her hands free, or the porter may have to hold the ninny in place in which case there may be dummy arms attached.
Both the ninnies pictured here are dwarf ninnies. to the left is 'Sir William', a ninny from Buckland Newton in Dorset. He is modelled over a withy frame and depicts a local dignitary.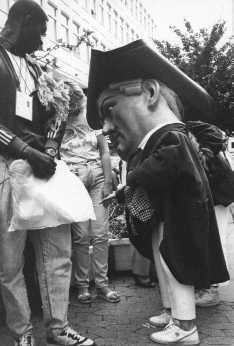 The ninny on the right comes from Manresa in Catalonia. He's cast from a fibreglass mould, and several identical heads exist, though they're painted differently.
He's seen here at the World Student Games in Sheffield, an event at which Catalan and British giants made a huge hit with the local schoolchildren.

BIGG Index